News
pressrelease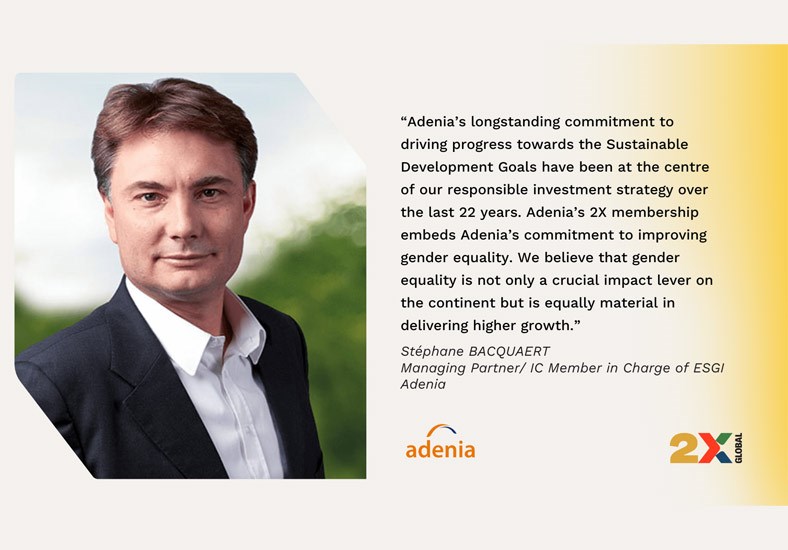 Back to news
17 Oct 2023
Adenia Partners Joins 2X Global
St Pierre, 17 October 2023 – Adenia Partners ("Adenia"), a pan-African private markets investment firm committed to responsible investing and a sustainable Africa, is proud to announce that we have joined 2X Global , a global industry body focused on increasing the volume and impact of capital directed towards women's economic empowerment worldwide.
Adenia has set ambitious goals with regards to promoting gender lens investing and minimizing the environmental impact of its investment program. In February 2023, we announced our 2X Flagship Fund status as one of the few Africa-focused fund managers to have been awarded. This distinction underlines specific commitments to gender balance and intentional impact both within the manager and its investees.

Stéphane Bacquaert, Managing Partner and IC member in charge of ESG and Impact : "Adenia's longstanding commitment to driving progress towards the Sustainable Development Goals have been at the centre of our responsible investment strategy over the last 22 years. Adenia's 2X membership embeds Adenia's commitment to improving gender equality. We believe that gender equality is not only a crucial impact lever on the continent but is equally material in delivering higher growth."

As a control investor, which has invested in 32 companies employing more than 10, 200 people across Africa, Adenia works closely with management teams to build inclusive workplaces that respect, support, and fairly reward women. To date, 66% of Fund IV portfolio companies are already aligned with at least one 2X Challenge criteria.

"We're thrilled to expand our membership by welcoming Adenia Partners to 2X Global," stated 2X Global CEO Jessica Espinoza. She added:

"Adenia shares our dedication to expanding and increasing the flow of capital to women-owned, women-led and women-benefiting businesses – which is why they were awarded 2X Flagship Fund status in the latest round of the 2X Challenge. We're looking forward to even deeper collaboration with them to advance standards and grow the field of gender lens investing."

Mokgadi Maunatlala, Head of ESG and Impact: "At Adenia, we strive to increase the enterprise value while benefiting workers, communities, and companies on the continent by entrenching gender equality. As a 2x Flagship Fund and 2X member we have made progressive gender commitments at the manager and investee levels. We are looking forward to engaging with fellow members to share best practise and insights, learn from our peers, and enhancing sustainable development."

Adenia has marked its intentionality by formally committing to contribute to SDG 5: Gender Equality with an ambitious set of targets and timelines for both Adenia itself and for its portfolio companies. Adenia's internal goals will drive progress towards greater female representation on the firm's Investment Committee, among its partners, and within the full staff. Adenia will also support all future investees with the development of a Gender Policy and a tailored Gender Action Plan.